At MunchMakers we offer a whole lot of custom grinders and truly believe we have the best grinder selection in the world.  In fact, no one offers more custom grinders than we do, and we're proud of that.  And not only is our selection large and diverse, we stand by our promise to make sure every product is premium quality.  Basically, if our grinders were weed, they'd be grade A+ super hybrid deliciousness.  Our competitors are (mostly) selling skunk weed.  Eww.
But after you've decided to work with MunchMakers, you want to know which grinder is the best for you.  And not only that, which printing method is right for your specific logo.
Fortunately, your friends at MunchMakers are the world's top grinder experts and we are here to help.
First Things First: Do I Want UV or Laser Engrave?
This is a very important question but fortunately the answer is pretty simple.
If your image has many colors or even multiple colors, you want to go with UV print.
UV print is basically ink printing.  But this isn't ink that will rub off, smudge, or otherwise look bad.   It's ink that will stay on the grinder for years and years of solid use.  That, of course, doesn't mean forever.  Everything ink based eventually wears off.  But we've been using the same UV printed for years and for the most part the images still look sharp.  With basic care, such as keeping the grinder out of direct sunlight and away from water, the grinder should last years and years.
The alternative to UV printing is laser engraving.  Laser engraving by definition does not wear off because the grinder is physically "damaged" in a sense by applying very hot temperatures on the metal to showcase the image.  This image will never wear off but the catch is laser engraving is reserved to white images – no colors are possible.
For example, here is a grinder we made in collaboration with musician Kacey Musgreaves: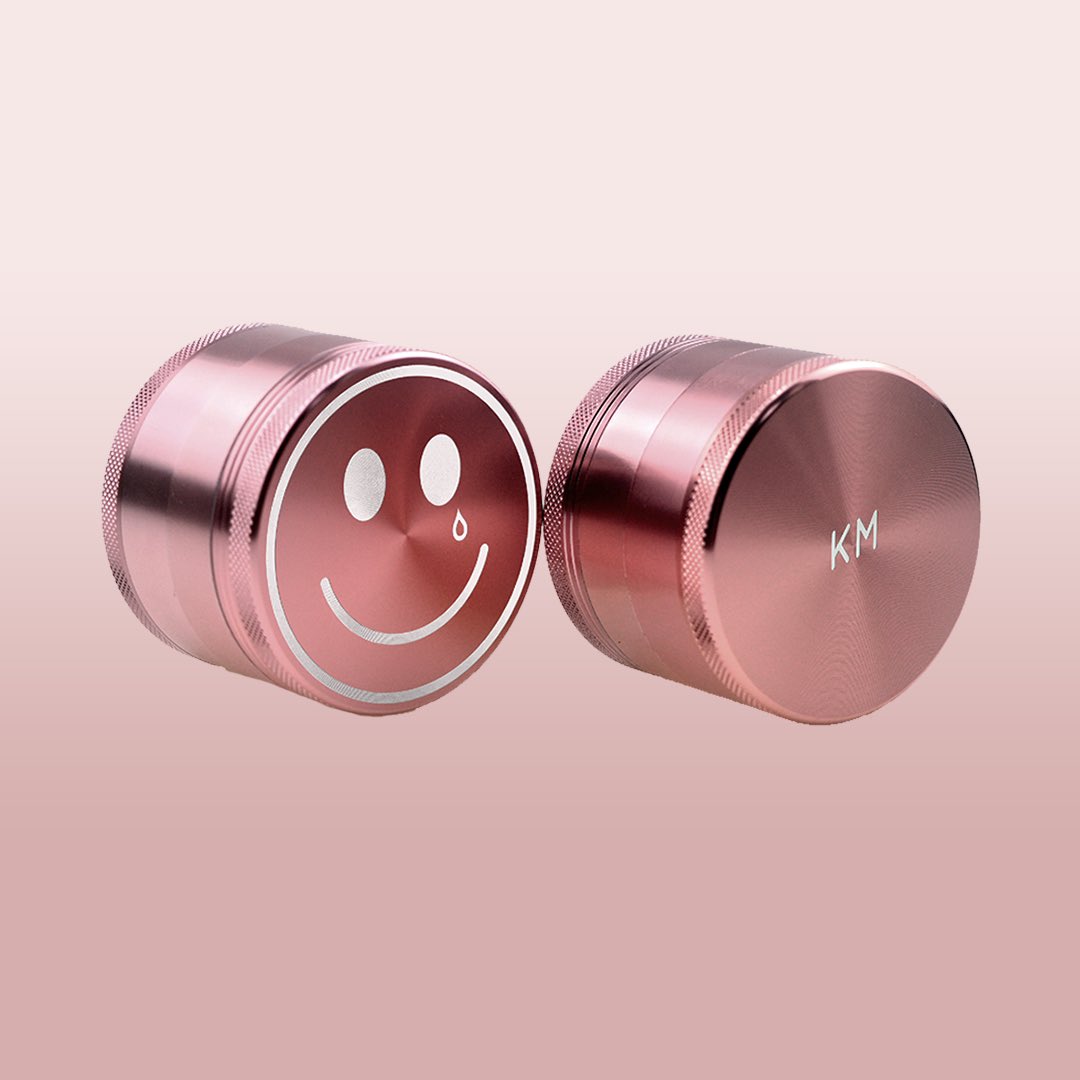 Pretty cool, right?
Last thing to note – laser engraving is only reserved for orders of 20 or more custom grinders.  So less than this, only UV print is possible.
Second Question: What's My Budget?
Now that you've decided whether to go with UV print or laser engrave the next question is deciding which grinder to go with.
If you are going with UV print than:
Zinc grinders are our best sellers and work great with UV printed images.  They look great and grind like a pro.  In large volumes the grinders are only a couple dollars each.  You can't go wrong with zinc grinders.
Matte grinders are our personal favorites for UV printed images.  They feel like iPhones and are stunning to hold.  Images print on them super sharp.  Highly recommended.
But what about aluminum grinders?  For this we have a few recommendations
Aluminum grinders are always popular and are the preferred choice for laser engrave but affordable.  They look similar to zinc grinders but a little fatter.  But the aluminum material is better for laser engrave.
Ceramic grinders – These are the crème de la crème of grinders and reserved for the most premium buyers.  Laser engrave looks fantastic on them and the material feels very luxurious.
Genuine wood grinders – A relatively new addition to the MunchMakers family, these genuine wood grinders are engraved straight on the wood.  A very popular style that feels organic and natural
Last Question When Selecting Best Grinder: What Size?
The most common grinder size is 63mm (2.4″) but for matte, zinc, and aluminum grinders we offer 40mm (zinc and aluminum only) or 55mm diameter sizes.
Our professional recommendation is to stick with the 63mm size.  This is a good size even those with big hands.  The load chamber is quite large and can hold a gram or 2.
The 55mm grinder is workable but a little small for those that like fat joints or maybe have very large hands.
The 40mm grinder works but is small.  It works wells as a promotional item and grinds the herb but we wouldn't recommend it as an everyday use grinder, unless only a little herb gets the job.